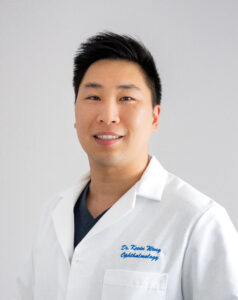 Dr. Kevin Wong is a comprehensive eye physician and surgeon serving the
Kitchener-Waterloo region with a commitment to exceptional eye care. He
specializes in a wide range of eye diseases, bringing his expertise to the
diagnosis and management of various ocular conditions. Dr. Wong earned
his Bachelor of Science degree from the University of Windsor, graduating
with the highest academic standing in the chemistry/biochemistry program.
He then pursued his Doctor of Medicine degree at Western University in
London, Ontario.
Dr. Wong continued his residency training at Western University in
Ophthalmology, during which he had the privilege of serving as co-chief
resident. His training equipped him with extensive skills in performing cataract
surgery, administering intravitreal injections, and conducting a variety of
precise laser treatments. With a commitment to excellent eye care, Dr. Wong
combines his comprehensive medical knowledge and surgical expertise to
ensure the best possible outcomes for his patients. Dr. Wong also holds a
keen interest in providing clinical teaching to medical students and residents.
Clinical Interests
– Glaucoma, retina, cataracts, and other comprehensive eye diseases.
– Procedures: Cataract surgery with premium IOL technology, anti-VEGF
injections, glaucoma and retinal lasers.
Degree Qualification
– BSc Honours chemistry major with thesis, minor in mathematics (with
great distinction) – University of Windsor (2014)
– MD – Western University (2018)
– FRCS(C) Ophthalmology – Western University (2023)
Language
English and Cantonese