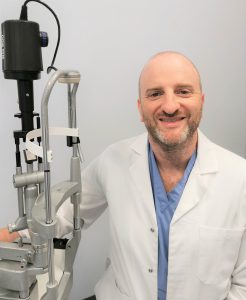 Richard Weinstein, M.D, is a comprehensive ophthalmologist practicing at the Ocular Health Centre in Kitchener-Waterloo, Ontario. He received his Bachelor of Science degree in chemistry at the University of Western Ontario and then went on to obtain his medical degree at the University of Ottawa before completing his ophthalmology training at the University of Medicine and Dentistry in New Jersey.
Dr Weinstein is a co-founder of the Ocular Health Centre, a large multi-physician practice and the Ocular Health Network, which has treated thousands of patients using tele-ophthalmology in the Waterloo region.  He was the first ophthalmologist in the KW region to start intravitreal injection therapy for macula degeneration and implant presbyopia-correcting intraocular lens.  He has been actively involved in the local startup community as a mentor and an investor for numerous companies in the MedTech space and recently co-founded EyeStart, an incubator devoted to early stage ophthalmic companies.
 He has performed thousands of intraocular surgical and laser procedures to treat a comprehensive list of eye diseases including cataract, glaucoma, macular degeneration and diabetic retinopathy.
At your appointment we kindly ask you to bring the listed information with you to each visit:
Valid Health Card
Updated list of medications
Sunglasses and/or a driver
Your prescription glasses
Please arrive with your contact lenses out before your appointment
Please note that there is a possibility that your eyes could be dilated at your appointments. Dilation causes blurry vision and light sensitivity for up to 4 hours. Please come prepared with dark sunglasses and/or a driver if you are uncomfortable driving with dilated eyes. We encourage a family member or friend to come with you to your appointments to be involved with your care and education.